Hang pictures without
damaging walls
Hang pictures without damaging the wall – preparation
Many people want to hang pictures on the wall as simply as possible without having to use a drill, plugs and screws. When you hang pictures, you should first think about where and how many pictures you want to hang up. It is not only the space and size of the wall that is decisive but also the substrate of the wall. Many apartments or offices are equipped with concrete or plastic walls, which do not allow drilling. Particularly in rented apartments, one does not like to leave large holes by drilling holes in the wall. There are many reasons not to hang a picture.
Maybe you have a concrete wall and cannot easily drill a hole in the wall. Or through the place where you want to hang up your picture, wall run numerous lines. But also the fear of unsightly holes while drilling can keep you from hanging a picture on the wall. Moreover, many landlords do not like to see the wall being pierced with numerous holes. In the following guide we give you tips and tricks on how to mount your pictures on the wall without drilling. Let the following suggestions for your perfect wall design inspire you now!
You are looking for a possibility to hang your pictures on the wall without drilling? With our picture hanging system you do without drilling or nailing and stick your pictures on the wall from now on.
Our picture hangers to hang your pictures without damaging the wall
Sticking, nailing or drilling? The choice is yours
Hang pictures without drilling – define the correct picture type
There are different types of pictures that you can put on the wall in different ways. For this purpose we distinguish two groups: images with frames and images without frames. In the following section we would like to explain the different types of pictures and hanging systems and present the best solution for hanging your picture on the wall, whether with or without frame, without drilling.
Pictures with frames often have a pre-assembled hanging system and are therefore easier to hang on the wall. In the following we will show you how to attach a framed picture without drilling.
The classic picture frame
Probably the most common form of wall paintings is the picture in a picture frame. Behind a glass front, the image is protected from dust and dirt. Picture frames are usually equipped with a hanging system on the back. The most common form of suspension is the eyelet. These are available either as a hinged eyelet in triangle form or as a small indentation, which is pre-assembled on the back of the frame and fastened to the wall with a screw or nail. If you want to know more about frames, you can hang up picture frames in our guide – this is how to browse and get more tips and tricks.
Canvas and stretcher frame
Pictures on canvas or stretched on a stretcher frame, are also popular to place large wall pictures prominently in the room. Canvas pictures are usually equipped without a hanging system, so that when hanging them on the wall the question of the correct attachment is often asked. In order to be able to hang your canvas on the wall without drilling, we recommend that you read our guide Hanging a canvas without drilling holes. Some canvases are equipped with a serrated hanger for hanging, which is placed on a nail or screw attached to the wall. The prongs prevent the image from slipping sideways. If you have a canvas picture with a serrated hanger and want to hang your canvas on the wall without drilling, then the section Hanging up pictures without drilling with stick nails is for you.
Pictures without frames (Aluminium print,acrlyic glass, photos, poster)
Pictures without frames are often not equipped with a hanging system due to their nature and must be hung on the wall with alternative suspensions. In the following you will find an overview of picture types without frames as well as tips and tricks how to hang them up without drilling.
Direct printing on Alu-dibond, Forex, acrylic glass
Modern murals are printed directly onto the printing plate instead of on cardboard or canvas. There are different types and materials. Especially prints on alu-dibond, pictures on plates or acrylic glass prints are very popular formats due to their quality. For direct printing, often no adequate hanging system is supplied. Some are equipped with two adhesive plates from the manufacturer, which must be aligned horizontally to each other on the wall, which is often not so easy.
The frameless picture frame is a modified form of the picture frame. It has, like the picture frame, a glass or plastic panel to protect the picture, but is attached with clips directly to the back and without a frame. The frameless picture holder is often equipped without suspension. If you want to hang your picture on the wall without damage, you will find your suitable picture hanger in the lower section "The solution: Hang pictures without damaging walls with GAEKKO picture hangers.
If you prefer to arrange entire collections of photos and Polaroids on the wall instead of letting them gather dust in a photo album, a few tips and tricks can help you create an entire wall of pictures. However, most ideas, such as hanging up photos with a rope, still require one or two holes in the wall.
Without wholes in the wall
No frames or tools are necessary
Removable without residue
Hang pictures without damaging walls – The surface of the wall important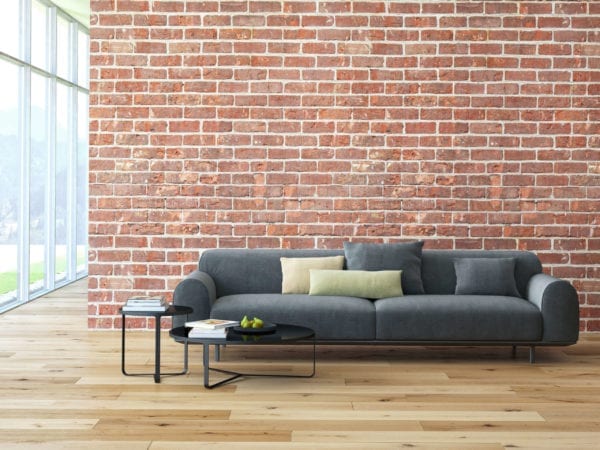 When you have found the right type of picture and already know in which room you want to hang your pictures, it's time to go for the wall. Here the question quickly arises: What kind of ground is my wall made of? Can I drill or nail through the wall or do I have to find another solution? In the following section, we will show you, briefly and concisely, which types of wall are available and which mounting method is most suitable.
Hard walls include concrete walls, brick, marble, glass facades, metal walls, tiles and plastic walls. Hard walls are often difficult or impossible to machine with a drill, so that an alternative arrangement of the pictures without drilling is quickly sought.
Soft walls include walls of stone, such as brick or limestone. These are the most common wall forms in our home. There is often a layer of plaster or wallpaper on top of it. Soft walls made of sheetrock are also becoming increasingly popular and can be found in renovated or redesigned rooms and in many prefabricated houses. With soft walls you have more possibilities to place your works on the wall. Besides the classic drilling or nailing you can also stick pictures on the wall. Especially with wallpaper and plaster you should pay attention to sufficient adhesive effect due to the uneven wall surface. This can lead to residue or a damaged wall when removing the unit later. If you are unsure about the type of picture, the weight of the picture and the composition of the wall, there is a remedy: In 3 simple steps you can find the right picture hanger with our 'picture hanger generator'.
Is it possible to hang pictures without damaging my wall?
Hi folks,
I have some new motives on canvas and I am desperately looking for a way to hang my paintings on the wall without steel nails or screws. I also like to paint very much myself and therefore often place my canvas paintings on an easel in the hallway. The effect of the pictures on the easel is, in my opinion, not as strong as on the wall. Now I have heard about these self-adhesive picture hooks with which you can stick your favourite pictures to the wall in no time at all. Has anyone had experience with these picture hooks or is the stability of these hooks really as high as described by the manufacturer? Maybe you have other creative ideas how I can do without nails and drills in my wall decoration.
Thanks & Greetings
Alicia
Hang pictures without holes – Methods to reduce holes
A simple way to reduce the number of holes in the wall is to work with as few suspension systems as possible. Many pictures have to be arranged on the wall with two, three or even four hangers. In order to reduce the number of holes by drilling or nailing, it can already be a simple tool to reduce the number of hanger systems.
Use sticky pads to reduce holes in the wall
For large murals, such as Alu Dibond, Forex or acrylic glass, which you can hang on the wall without frames, there are special hanging systems. Because no frame protrudes to the rear and the plate cannot be drilled through at the back, the use of adhesive sheets is useful. An adhesive plate consists of a metal sheet with a bracket for fastening. The plate can be fixed to the wall with a simple screw or nail. With a double-sided adhesive tape the sheet is stickd to the back of the picture. Adhesive sheets are available in different shapes and sizes. The load capacity of the adhesive sheets depends on the size of the adhesive surface. A 7 × 7 cm adhesive sheet holds about 3 kg. Commercially available adhesive sheets are available up to a size of 10 × 20 cm and can thus support a maximum of 12 kg per sheet. If you only want to have a hole in the wall, you should fix an adhesive sheet with as large an area as possible in the middle of the back of the mural. Now all you have to do is drill a hole in the wall, fix dowels and screws in the wall and you can arrange your work of art on the wall. Our tip: Measure the exact centre of the picture with a tape measure and draw a horizontal line with a pencil and spirit level to stick the adhesive sheet straight to the back of the picture. This prevents crooked pictures when hanging up later
Hanging multiple pictures with just a little effort – tips and tricks
A good trick to be able to hang as many objects as possible on the wall at the same time is to use a picture collage. In a collage, several pictures are hung together in any arrangement. A very large picture frame can be used to arrange as many pictures as possible and can thus be fixed to the wall with only one nail or screw via a suspension. Even with photos, individual photo walls can be created very quickly.
Hanging heavy pictures with a picture rail
Your wall won't let you drill? But your blanket does? Then you should consider suspension with a ceiling rail. Unlike picture or gallery rails, a picture rail is not mounted on the wall but in the form of a ceiling rail on the ceiling with screws. On the picture rail there is a guide with a hanging cord or wire. Sometimes simple nylon threads are also used. At the ends of the cords there are picture hooks into which the pictures are hooked. Simply anchor the picture on the back with the hooks and the picture will hang on the wire without drilling holes in the wall. With the ceiling rail, even large and heavy pictures can be hung up. The wires on the picture rail also allow them to be moved sideways, which is particularly advantageous for individual design options. With this hanging you have to use a drill and it might be a bit harder to do it manually because you have to work overhead, but you avoid drilling holes in the wall.
Mit der Deckenschiene lassen sich auch große und schwere Bilder aufhängen. Diese lassen sich durch die Drähte an der Bilderschiene zudem seitlich Verschieben, was vor allem für individuelle Gestaltungsmöglichkeiten von Vorteil ist. Bei dieser Hängung musst du zwar zur Bohrmaschine greifen und es ist vielleicht handwerklich etwas schwerer, da Du über Kopf arbeiten musst, aber Du umgehst dadurch Bohrlöcher in der Wand. 
Picture ledge and picture shelfs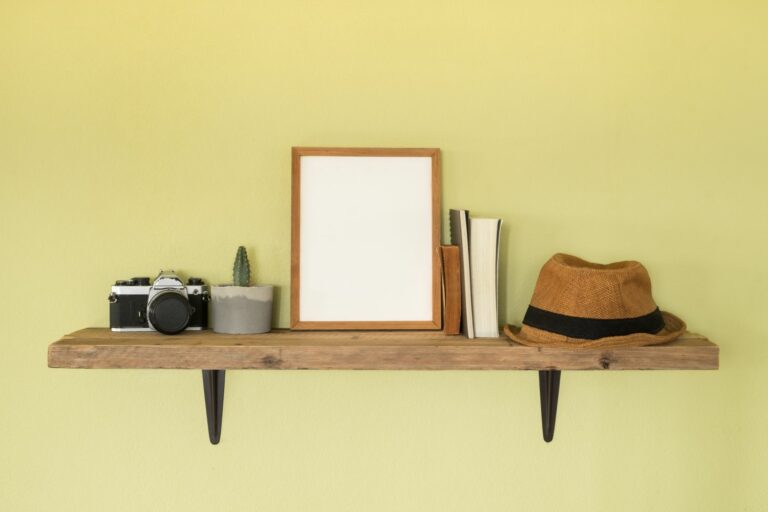 The picture rail is a simple and yet versatile way to mount works of art and other objects on the wall with little effort. The picture bar looks similar to a shelf, but is slightly shorter and has a raised edge at the bottom so that your pictures always rest perfectly on the picture bar. For mounting, only two holes need to be drilled in the wall to which the picture rail is attached. So you can arrange several works on the wall at the same time without having to reach for the drill again and again. Alternatively, you can also reach for a conventional shelf and place your pictures there. Our tip: A creative decoration offers the combination of your pictures with small decorative items. These can also be clearly arranged on wide picture shelves.
The photos from your vacation or from the last party are printed out and you don't know where to put them? Then you can easily hang up your photo prints with a photo rope. Stretch a rope or cord horizontally along the wall at two ends. The ends of the rope are held to the wall with two nails or, if the pictures are heavier, with two screws. Once the rope is taut, you can use wooden clips or small holders, such as clips for photos or postcards. The advantage of the photo rope is the flexible arrangement of the photos and the quick exchange of the pictures. For example, you can easily adapt seasonal themes such as Christmas photos or the images of a summer party to the seasons. 
Our tip: You can find more creative ideas and possibilities for attaching your pictures and photos with a string in our guide 'Hanging pictures on a string'
The advantages of our picture hangers at a glace
Hands off complicated hangings
If you want to have a few holes in the wall or want to hang up your pictures without drilling, you should refrain from four-point suspensions. Although a four-point suspension looks elegant and is mainly used for heavy paintings on direct print such as acrylic glass, it is completely impractical. In each corner of the picture there is a thread, which has to be fixed to the wall with a screw. Not only do four holes have to be drilled into the wall, but also the horizontal and vertical alignment of the four holes to each other is difficult, especially for laymen. Slight deviations during drilling will mean that you cannot suspend the suspension and subsequent drilling will be the result. 
Our tip: Should you nevertheless decide to use the four-point suspension, mark the holes to be drilled through the threads of the suspension. When you have drilled two holes, use the picture to screw the two long screws Probe into the wall without using dowels. If there are already deviations and the screws do not fit into the holes, you can readjust them early. If the holes fit, you can now dowel and screw the screws into the dowels.
Hanging pictures without drilling - with nails
Instead of drilling a big hole in the wall directly with a drill, you can think about fixing it with a hammer and a nail. Especially with small and light pictures the grip to the drill is not necessary. A prerequisite for this is that the wall is not too porous or too hard and allows nailing. The big advantage of a nail is the residue-free removal and the low effort of the attachment with the hammer. The small hole is very easy to fill again so that no hole remains in the wall.
Ideas to hang pictures without damaging
If you want to do without holes in the wall altogether, you will find ideas in the following section on how to put your pictures on the wall without drilling and without holes.
Hanging pictures with adhesive tape or double sided tape
The easiest way to hang a picture on the wall without drilling is with a compact adhesive strip. Many suppliers advertise with the fact that these adhesive tapes have an immense adhesive power. But if you want to hang a picture with a frame on the wall, you will soon find out that the adhesive strength of the adhesive strips leaves a lot to be desired and that you have to use a lot of strips to make your picture hang at all. Strong double-sided adhesive tapes have a much better adhesive power. However, the adhesive strength is usually so strong that the double-sided tape may leave residues on your wall. Especially when sticking to wallpaper or plaster, the double-sided adhesive tape can leave unsightly damage in individual areas.
Hanging pictures without damaging walls - Magnetic tape
Magnetic tape is a real all-rounder when it comes to hanging pictures on the wall flexibly and in no time at all. The tape is equipped with a self-adhesive side and a magnetic side. The tape can also be stickd around the corner and you can buy it in many different widths.
Hanging pictures without damaging walls - Washi Tape
Washi Tape is a worldwide trend that originally comes from Japan. The Washi Tape is a decorative adhesive tape and is available in different patterns, shapes and colours. Small pictures and photos can easily be stuck to the wall with the Washi Tape. The Washi Tape is particularly suitable for creative people, as there are no limits to the design possibilities and the photo wall can be extended at any time.
Hanging pictures without damaging walls – Magnetic ink
To hang up light pictures or photos and small cards in your home without drilling, we recommend you hang them up with magnetic paint. With this type of suspension your wall will be painted with magnetic paint. The magnetic ink contains metallic particles which cause magnets to stick to it. So you can easily hold pictures to this part of your home with magnetic paint and attach them with small strong magnets. Neodymium magnets are ideally suited for this purpose, as they are small and inconspicuous, but still have a very high holding power.
Hang up picture without drilling - Adhesive nail
The stick nail is a good possibility to stick pictures to the wall with an existing suspension on the back of the picture. Unfortunately, the adhesive nail has a decisive disadvantage. Due to its small adhesive surface the nail can only hold a low weight. In practice, the manufacturer's specifications of adhesive nails for maximum load-bearing capacity are often much lower. So-called assembly tapes have a somewhat stronger adhesive power. However, the adhesive strength here is usually so strong that the mounting tapes cannot be removed from the wall without leaving residue. We have taken the idea of the stick nail further, designed a larger adhesive surface and developed an attachment for all types of pictures, which is explained in the following section.
The solution: Hanging pictures without damaging walls with GAEKKO Picture hangers
When hanging up pictures, the most important thing is the right preparation. Appropriate preparation helps to ensure that the final result has the desired effect. In addition, it must be one thing above all: it must be simple. And we at GAEKKO have taken this to heart. That's why we have developed innovative picture hangers that can be quickly and easily attached to any wall for any picture.
For every picture

No matter whether Aludibond, acrylic glass, Forex, canvas, stretcher frame or many photos. No matter if with frame or without picture frame. The GAEKKO picture hangers are suitable for all types of pictures.
For every wall

Regardless of whether it is a massive concrete wall, plasterboard wall, glass facade, ingrain wallpaper or plaster – our picture hangers hold on every wall. With the innovative 3-in-1 hanging system, you decide how you want to hang your favourite picture on the wall – the choice is yours: stick, nail or screw
All you need in one set
Our ten-centimetre wall hangers are equipped with double-sided adhesive tape, so you can even stick large pictures to the wall. Really heavy pictures can be mounted on the wall with our wall hanger and the supplied plugs, nails and screws.
The matching holder for the back of the picture as well as spacers for frameless pictures are also included, so you don't have to worry about anything else when attaching the picture.
Check out our picture hangers for all kind of pictures