Hanging pictures
on drywall
How can I hang pictures on plasterboard?
Hello GAEKKO,
I would like to hang a heavy picture on a drywall of my room. Usually, this is not a problem, but this is a plasterboard wall that was installed later. The partition wall is a double wall with a typical double layered covering of 12.5mm. Concerning nails, I am worried that the load might be too heavy for a single nail. That is why I tried screws. However, even the screws are not better than nails and in the thin sheetrock wall, they do not stabilize the picture. 
My picture hangs but it looks like it might fall down any moment. Also, a friend told me that a real professional would never hang up a picture using screws. What is your advice? Can I also hang a picture on drywalls using a different type of attachment? Does the ultimate method to hang pictures on drywalls even exist? Is there also a way to do this without drilling or using dowels?
Again thank you and many greetings from London
Michael
Our picture hangers for drywalls
Stick pictures on the wall
Best way to hang pictures on drywall – This is how it works
More and more often, we are asked how to hang pictures on a light weight drywall, also called plasterboard. This is not surprising since in modern residential construction, many erected walls are drywall constructions. The sheetrock panel, colloquially known as the "plasterboard", has since then been a synonym for all sheetrock panels. Drywalls are boards made of gypsum, which are covered on both sides with a thin layer of cardboard. Drywall and Plasterboard are being used more and more frequently, especially for the construction of partition walls and for lowering a ceiling.
Drywall or Plasterboard is a natural building material that can be processed quickly and does not burden the room climate with moisture. Drywalls also offer a high level of living comfort, as they have high-performance sound insulation and fire protection. Only when it comes to hanging objects such as pictures on sheetrock or drywalls, some people still have their doubts. Neither with a screw alone nor together with normal dowels your pictures hang stable and safe on the wall, because the soft layered plaster material splits very fast.
The load-bearing capacity of a sheetrock wall depends both on the load depth, i.e. the center of gravity of the picture to be suspended and on the planking. Here, you can find out how to recognize the load capacity and the load depth of sheetrock walls and which pictures you can hang on which sheetrock wall.
Forget annoying drilling or nailing
Without holes in the wall
No frames or tools are necessary
Removable without residue
How to hang heavy pictures on drywall
If you want to hang larger picture or heavy photo frames on your drywall, we definitely recommend using plasterboard plugs or drywall anchors. Drywall anchors are designed for fixing objects in drywalls. This special anchor is available in plastic or metal. For the attachment of drywall anchros made of plastic you need special bits, which are clamped into the cordless screwdriver. Then you can remove the dowel or put on cavity dowels and screw them into the sheetrock wall. The dowel automatically seals with the wall. Then you can screw a screw in the dowel.
The metal drywall anchor conforms to the same principle as its plastic counterpart. The advantage of the metal plasterboard dowels is, however, that they do not require any additional tools to be screwed in. Due to its metallic design, the anchor is much more robust and can therefore be screwed into harder and older drywall by hand. With both kinds of dowels for drywalls, however, you should make sure that your pictures are not too heavy as the load capacity of the dowels is not sufficient.
Irrespective of the cavity anchor used, the load-bearing capacity of the sheetrock wall must always be taken into account when fixing larger pictures. The load-bearing capacity of the drywall depends not only on the center of gravity of the picture to be hung up, but also on the planking. With a typical double-layer planking of 12.5mm, even small wall cupboards and loads of up to 55kg can be suspended using a metal cavity dowel. These cavity anchors are also known as expansion anchors. In this case, the cavity wall dowel will easily withstand a load from a large flat screen, a small shelf or a hanging kitchen cupboard. However, once you have screwed the cavity wall dowels into the wall, it is difficult to remove the sheetrock from your sheetrock wall.
With the so-called MoneyHook, you do without dowels completely. The small spring steel hook has a self-drilling tip, thus the MoneyHook makes using dowels unnecessary. It can be fixed directly into the drywall. Our tip: It is best to pierce the cavity plug, as it is easier to press the expanded plug into sheetrock than to pull it out of the plasterboard wall. The cavity plug then falls into the space between the  drywall. The only disadvantage: What remains are unsightly holes in your plasterboard, which can only be removed by plastering the drill hole.
Hanging pictures on drywall – how to mount small pictures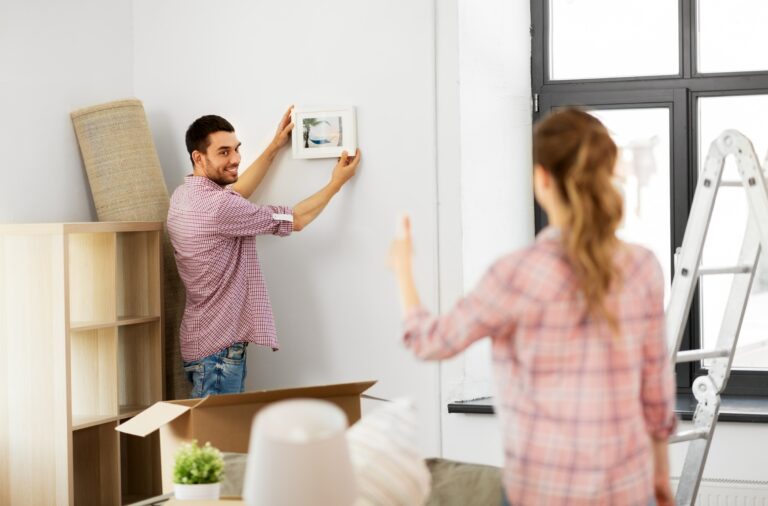 Hello everyone,
I have recently moved into a new apartment and have a lot of sheetrock walls. Now I want to hang up some pictures on my new walls. I have already bought these cavity wall dowels in the DIY store and have also hung some heavier objects, such as my flat screen TV, on a sheetrock plate. As these dowels are always very big and also quite complex to screw into the wall, I ask myself the following question: "How do I hang a smaller series of pictures (all small picture frames with old photos in the size 20x20cm) on a sheet of drywall? I find using these large dowels together with the large screws too complex." Can I simply screw small screws into the drywall? Is there perhaps a better and faster solution for hanging my pictures on plasterboard?
Thanks for your help!
Michael
This is how you hang small pictures on sheetrock
Screws or nails are perfectly sufficient when it comes to fixing small and light pictures to sheetrock. A nail in a sheetrock wall usually holds pictures weighing up to four kilos. You can screw the nail or a narrow screw directly into the sheetrock wall. Due to the load distribution, almost every nail and screw holds reliably on the drywall. However, you should not use several nails for one single picture. This not only leaves many unsightly holes in your wall but also the weight is distributed unevenly on several nails, which can cause the picture to fall off the wall. Even if you want to remove your picture again, unsightly holes will remain in your plasterboard.
Alternative ways - plasterboard picture hooks
Hello everyone,
We have constructed a new plasterboard wall in a room. The partition wall has a double planking of 9.5mm gypsum plasterboard. I have 6 beautiful pictures (50x75cm), which I had printed on so-called aluminum composite plates. I would like to attach these to the plasterboard. Since the aluminum composite pictures do not have a hanging system, I wonder how I should hang the pictures on the drywall without nails? If necessary, I would have to drill small holes into the aluminum composite plate and possibly fasten with nails. But this would have the unpleasant side effect that the picture would lie directly against the wall, which would be a pity. Do you have any idea how I can hang my pictures on drywalls without nailing, quickly and easily? 
Thank you very much for your answers.
Melanie
The picture hanger for aluminium composite, acryl glass, forex & cardboard
With the innovative 3-in-1 hanging system by GAEKKO, you can hang up any kind of frameless picture on any wall as easy as winking. It is your choice: Gluing, nailing or screwing.
Self adhesive drywall picture hooks - Just stick them!
You do not feel like drilling or nailing and you find holes in your wall as stupid as we do? With the different methods such as adhesive strips or picture hooks for drywalls, you do hang pictures on drywalls without nails or screws. The adhesive variants, which are also suitable for sheetrock walls, can bear loads of up to one kilogram. 
The assembly of the adhesive nails and tape is quite simple: remove the adhesive strip, stick on the adhesive nail or hook, hang the picture and that is it! Before you hang your pictures, however, you must make sure that your drywall or plasterboard is free of dust and properly cleaned. This is the only way to guarantee that your picture will hold without any problems.
Hanging pictures on drywall is no problem with the GAEKKO hanging system
We at GAEKKO have developed a innovation in the field of picture hanging systems. Do without drill holes, picture hooks or other hooks and hang pictures on drywall by sticking from now on. Our self adhesive picture hangers for drywall also offer the advantage that they can be removed just as easily and quickly, in addition to being quick to assemble. The solution against holes in your wall: Stick on pictures! Our picture hooks for drywalls have a load capacity of up to 2 kg when sticked. And when you want to hang heavy pictures on a plasterboard weighing more than two kilograms, you can also mount your pictures using the screws supplied. Screwed or glued, the load capacity increases to up to 4 kg.
Discover our picture hangers for drywalls