Hanging pictures
without nails
How to hang pictures without hammer and nails: Using this method, you can easily hang pictures on the wall
A nail in the wall not only looks stupid but also leaves an unsightly hole. For very different reasons, you should refrain from hammering nails into the wall or even drilling them in some apartments. A moment ago, you have painted your wall nice and white, just put on the drilling machine and want to drill a hole into your beautifully white wall? This costs a lot of effort, especially when you know that a drill hole cannot be corrected so easily. 
That is why many people reach for the hammer when hanging a picture. The advantage here is that it is much faster and easier to hammer a hole into the wall using a nail. Whether nailing or drilling, or perhaps a completely different method depends mainly on the weight of your painting. Light and smaller pictures weighing between 2 and 6 kg can be hung without any problems with only one nail. For heavier pictures it is recommended to use screws and dowels.
Our picture hangers without nails: Simply glue!
Discover our picture hanger without nails
In addition, the size of your picture does not play an insignificant role in the choice of suspension. The size of your picture ultimately decides whether you want to use two nails or screws or just take one. From a format of 50 x 60 centimetres, you should always use two hanging points for the picture for safety reasons.
You want to hang a small, not too heavy picture on the wall? You`re not in the mood for any tiresome drilling or nailing? Maybe you simply do not have the right tool for attaching your picture frame securely to it? It does not matter: You can still decorate your wall with pictures. Because there are many ways to avoid the ugly drill or nail holes. We are going to show you how it is done!
Which nails for hanging pictures on the wall?
"Hello, I am not a big do-it-yourselfer but nevertheless I would like to hang some pictures on the wall in my apartment. Can you tell me which hammer and nails I use best for hanging pictures? Does it make a difference if I use a rubber mallet or a metal hammer? And are there good nails, which are particularly suitable for hanging a picture on the wall?"
Best nails for hanging pictures
However, before you nail a hole in the wall, you should first check that there are no water and electricity pipes running along the desired location. Especially in older houses you cannot always estimate exactly where the lines actually come from. In modern apartments, water and electricity lines usually run only vertically and horizontally to the ceiling and floor. But you should not rely on that. You can play it safe if you use a good line locator to drive over the desired drilling site several times.
When choosing the right nail, you should also pay attention to the optimal length. For not too heavy pictures you should choose a steel nail of 4cm or 5cm. Before hammering the nail into the wall, think about where you want to hang picture and mark the desired spot on the wall. Place the nail in the middle of the pencil mark and drive the nail into the wall at a 45 degree angle. This gives the steel nail much more load-bearing capacity and strength than if you hammer it straight into the wall.
Without wholes in the wall
No frames or tools are necessary
Removable without residue
Hanging pictures without nails and without drilling machine – these options exist
The type of nail always depends on the surface quality of your wall. Therefore there are different nails for the different wall surfaces. Universally it can be said that short steel nails with a length of four to five centimetres are well suited for any wall. However, if you have a heavier picture, your nails should also be bigger. However, if your wall is porous, you should reach for a drill as well as dowels and screws.
Sticking pictures on the wall! More than just an alternative…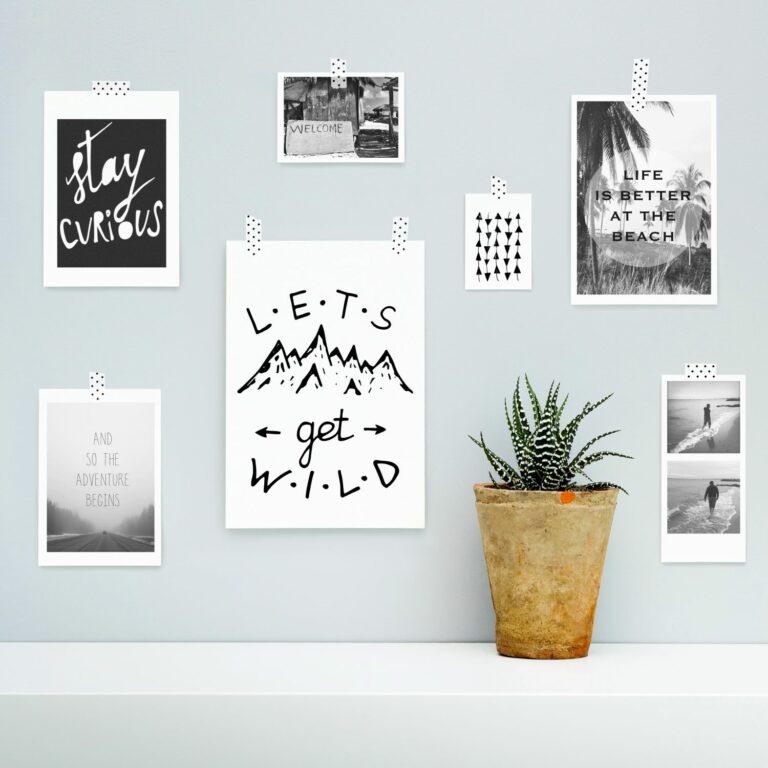 Picture hanging adhesive strips
If you want to avoid drilling or nailing, you can fix smaller picture frames to the wall with double-sided adhesive tape or adhesive strips. There are adhesive tapes especially for smaller pictures or posters, which are stuck on the backside at all four corners. Especially the compact adhesive strips often promise a strong adhesive force and residue-free removal without damage to your wall. But as soon as one wants to hang pictures with frames, one quickly realizes that the adhesive power is not as strong as it was supposed to be and that one has to use countless strips along the backside of the whole frame so that the adhesive strips can support the picture at all.
Our tips: Washi Tape! This colorful patterned tape will take on the rol of a picture frame. Washi Tape looks especially pretty for photos and small pictures without frames. For an even better effect, you can arrange several of your favourite pictures in a row and attach them with Washi Tape. So you can design your own individual photo wall. The advantage is that when removing the Washi Tape, no sticky residue is left behind by the strips.
Strong double-sided adhesive tapes are cheaper with a much better adhesive strength. However, be careful here: When removing the double-sided adhesive tapes, visible residues will remain and your wall may be damaged. Especially when gluing your frames to wallpaper or plaster, it can happen that the adhesive tape or mounting tape cannot be removed completely. What remains are unsightly adhesive residues that are very difficult to remove. For this reason, many manufacturers offer so-called power strips. Most of these can be removed without leaving a trace. The powerstrips were especially designed for light paper objects such as postcards, letters and photos.
Adhesive nails – Simple picture hooks with double-sided adhesive tape
Additional adhesive nails or hooks are available for adhesive strips or assembly tape. These are especially suitable for hanging pictures and the assembly is quite simple: fix adhesive tape or mounting tape to the wall according to the manufacturer`s instructions and stick an adhesive nail or hook on the tape. Afterwards you can hang your picture frame on the adhesive nail. Adhesive nails are a practical alternative to hammer and nail, but before you hang your frames you should make sure that the surface on which your picture will later be hung is free of dirt and dust. Only in this way, it can be guaranteed that the adhesive nail or picture nail also has enough adhesive power to carry your posters or picture frames without any problems. However, here too there is the problem that your wall, especially if you have wallpaper or fine plaster, can be damaged when removing the adhesive nail or the double-sided adhesive tape.
Hanging pictures on the wall – Alternative mounting methods
With magnetic paint and the help of simple magnets, you can hang light photos and postcards on the wall as you please. It is also possible to easily move your pictures around and design your own individual photo wall. The basic requirement is a smooth and well-cleaned surface so that you can apply the magnetic paint on your wall. With stronger magnets you can even hang small pictures without frames on the magnetic paint. Our tip: to make sure that your favorite pictures stay on the wall later, you should apply several layers of the magnetic paint on your wall. This is the only way to ensure that the magnetic holding power of the paint is sufficiently high.
Picture rail/ Gallery rail
A picture rail or gallery rail is a suspension rail for picture frames, which consists of an aluminum profile for hanging picture frames using suspension ropes and picture hooks. The nylon thread is hooked into the picture rail at the top and the picture hook is then pushed onto the nylon thread from below. Picture rails are available for both, wall and ceiling in different colors, as well as for light, medium and heavy pictures. It is important that you use a spirit level when mounting the picture rail, so that hanging your artwork is straight later. With the help of a gallery rail you don`t necessarily have to position your wall pictures next to each other, because you can arrange your picture frames in different heights thanks to the rope suspension.
The wire is attached to two hangers or metallic eyelets in the sides of the picture frame. The wire makes it very easy to straighten your picture, as the load is equally distributed on both sides of the frame. Instead of wire, some also use a simple cord. Our tip: However, we must advise you against this. Forgotten behind a frame for years, simple cords usually become brittle and then unexpectedly lead to an unwanted picture frame crash.
Is there an alternative to adhesive tape, picture rail or picture wire?
"Hello everybody, I would like to hang some normal photos and posters. In addition, I would like to hang a self-painted canvas picture, which is currently still standing on an easel, on my wall. Now I really don`t want the wallpaper in my room to be damaged by the installation of the pictures. In addition, I have some rooms with concrete walls that forbid me to hammer nails into my walls. Are there nailless alternatives that also hold and can be removed from the wallpaper without damage? What do you think of these self-adhesive picture hooks?"
The best way hanging pictures without nails on the wall
You would like to have your canvas pictures, your pictures on plate or your photos flexibly mounted on the wall? For this purpose we offer you various solutions with the appropiate accessories with which hanging your pictures works of art simply and easily. The good thing is that you can quickly remove the pictures and hang them somewhere else.
This also allows you to flexibly adjust the height of your images. Furthermore, you have the choice to glue, nail or screw your pictures to the wall. This means for you: you don`t necessarily have to drill holes and you don`t necessarily have to damage the wall by attaching your pictures to the wall with plugs and screws. Our hangers are also suitable for all surfaces. No matter whether wallpaper, woodchip, concrete, marble, tiles or plaster. With GAEKKO your picture hangs securely.
The best way hanging pictures without nails on the wall