How to stick
pictures on walls
The latest trend: Stick pictures on walls! Without nails and without drilling!
Who does not know this situation: You would like to redecorate your apartement with new pictures but you are still looking for the right method. Unpleasant holes in your wall, fallen plaster or even crooked pictures are the typical horror scenario when it comes to quick and easy fixing of your pictures.
But how do you hang your pictures on the wall without taking down the whole wallpaper? And at best, in such a way that your artworks will stay permanently on the wall and can also be removed without leaving any residue, without damaging your wallpaper?
Discover our self-adhesive hangers for all pictures
Also, it is too bad that almost all walls are so hard that you will not go far by using a hammer or a nail. When you hang a picture on the wall, than this often involves more effort than one might think. You often have to use a drill, dowels or screws to make sure that your pictures hang safely on the wall afterwards. Way too much effort, we think: Therefore it was about time that we at GAEKKO started looking for suitable alternatives to stick pictures on walls.
Therefore, you have probably already asked yourself whether there are aids for hanging pictures with or without frames, that leave no residue on the wall. Decide what type of picture and wall you have and find out, which of our products you need to stick your picture to the wall without ruining the paint. With our innovative self-adhesive picture hangers better than regular hanging strips , we can help you! So you can stick pictures on wall without nails, screws and drills!
Stick pictures on the wall - So it goes
This is how you stick pictures, photos or posters on the wall!
"I have many different pictures that I would like to mount on my sloping wall. Unfortunately, I cannot fix to a nail, because the pictures can fall down quickly through the wall slope! I think the idea of sticking photos on a wall is very good – as long as the tape does not leave any residue or holes on the slope! Do you have a solution and can help me?" 
Do you recognize yourself in this description?! Then our guide is just the right thing. We will explain in detail how you can attach pictures, photos, posters and even picture frames to walls of any kind without leaving any glue residue. We will also show you the advantages and disadvantages of the different variants. Have fun reading our guide!
Sticking pictures to the wall - These variants are available
Sticking pictures to the wall using picture hanging strips
The fastest and probably easiest way to stick your pictures and photos on the wall is probably to use simple adhesive tape, picture hanging tape or picture hanging strips. The adhesive picture hanging strips are ideal for very small picture frames or light photos and post cards weighing up to one kilo. You can easily remove the adhesive picture strips with a little care. Since the adhesive tape does not stick equally well to every wall, even small pictures can fall off after a few hours or days. On the other hand, the picture must not have a frame, as this would simply exceed the maximum weight for a simple hanging strip. Our tip: The picture hanging strips adhere particularly well to flat and clean surfaces. 
Picture hanging strips are a very cheap and wonderful alternative to the previous problem of hanging pictures on the wall and dril, nail or screw holes into the wall. Have you ever heard of colourful Washi Tape? It is a kind of picture hanging tape with various patterns and colors. You can also use adhesive Washi Tape as a frame for your photos.
Advantages:•
Low acquisition costs
Very economical
Disadvantages:
Can hold only very light pictures
Can be visible depending on the procedure of applying
Not suitable for every wall
The advantages of our picture hangers
Without holes in the wall
No frames or tools are necessary
Removable without residue
Fastening with double-sided adhesive tape or self-adhesive tape
There is the possibility to stick your picture to the wall with double-sided adhesive tape or hanging strips. To do this, you have to attach the tape generously to the back of your picture and press the picture firmly against the wall for one minute. It is best to stick the tape on the back of the picture on every end to fix it evenly to the wall. 
But watch out: In the case of wallpaper, fixing with hanging strips is not advantageous, as residues may remain when removing. You should make sure that the double-sided adhesive tape is broad enough and can withstand the weight of the picture to hang it permanently on the wall. Commercially available hanging strips are not suitable for this method and bears a high risk.
Strong double-sided adhesive tape, on the other hand, can hold more difficult pictures or even pictures with frames, but is somewhat more expensive and – with a very high probability – leaves many residue on the wall when it is removed later.
Advantages:
Favourable variant
Can be fixed quickly
Quick change of position is possible
Disadvantages:
Adhesive strength decreases with time
Leaves residues on the wall
May damage your image 
Fixing the picture to the wall with superglue
A very fast and cheap way to attach photos, pictures or posters to a wall is to glue them with super glue. However, despite the fact that this method of fastening is very cheap, it does have some risks. To attach a photo to a wall or wall slope with super glue, you should not spread the glue too generously to the back edges or respectively the picture frame and then press it quickly for 1-2 minutes to the desired place.
If you use too much super glue, the glue may stick out on the sides and dirty the photos as well as the wall. Also, the removal of the picture can be very problematic. Residues as well as holes and the damage of the wall, picture and wallpaper are almost unavoidable.
Advantages:
Inexpensive
Quick attachment of your pictures
Disadvantages:
High risk of damage to wall and picture
Leaves various residues
ATTENTION: We clearly advise against using super glue to attach photos or posters to a wall.
How to stick pictures on wall without ruining the paint - using magnetic paint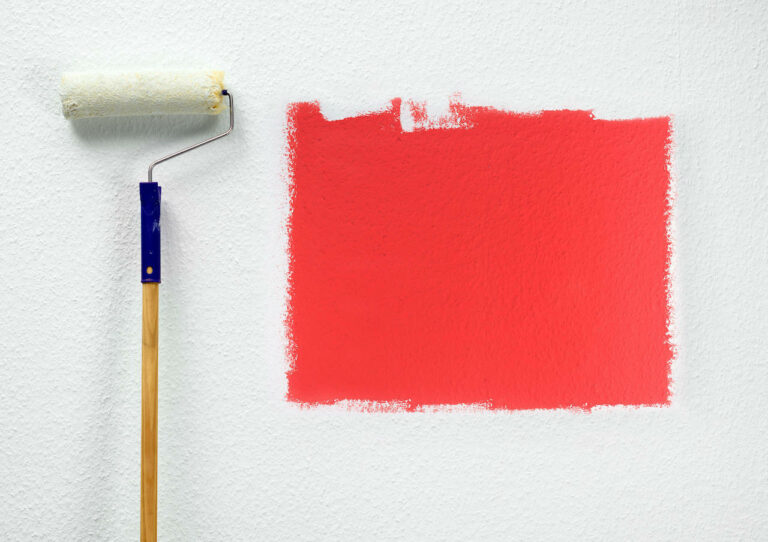 Another good method to stick pictures on wall and to avoid drilling, and thus also avoid holes in your wall, is to use magnetic paint. The application of magnetic paint is very simple: Paint the wall and hang up pictures with magnets on the wall. Done! Unfortunately, it is not quite that simple.
What is the secret of this color anyway? Basically, magnetic paint is a very common wall paint, to which small, very fine iron particles are added. The iron particles are responsible for the magnetic effect of the paint and later ensure that magnets stick to the wall. Due to the iron powder, the magnetic paint has similar properties to a normal piece of metal. That is why magnets stick to this paint just as well as to the door of a refrigerator or a normal magnetic wall.
A carefully cleaned surface is a basic requirement for the magnetic paint to be applied to your wall. For a good result, it is important that you apply the magnetic paint thickly and in multiple layers so that the magnetic effect is sufficiently strong afterwards. The magnetic surface is very practical, because you can attach all kinds of objects to it. So you can of course also hang small pictures on the wall, which you have previously painted with magnetic paint. You can attach your favourite pictures or posters directly to the wall or design your own photo wall.
Advantages:
Quick redecoration of your apartment is possible
Flexible mounting makes it especially suitable for photo collages and photo walls
Disadvantages:
Mounting is difficult
It is expensive
Discover our self-adhesive hangers for pictures of all kinds.
Stick pictures on a wall without damage, using gallery rail or picture rail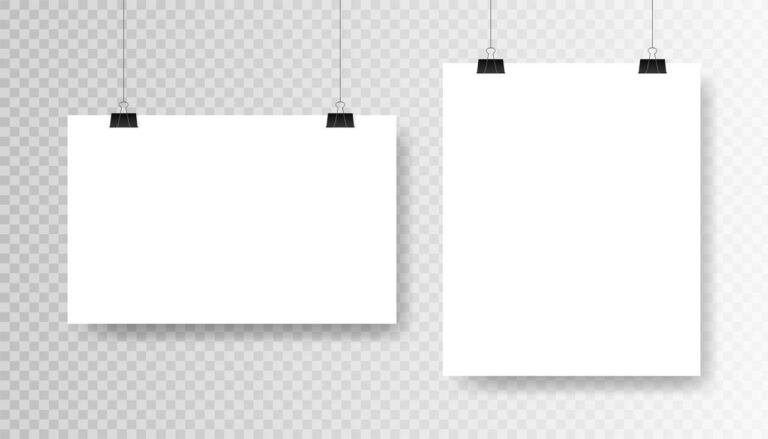 If you want to hang heavy duty picture frames, due to the weight, a frequently chosen solution is a picture rail. If a picture rail is used, heavy equipment is applied as it must be fixed under the ceiling with dowels and screws. But once the holes are drilled, you can easily attach several posters and pictures with the picture rail via wires to the entire wall below. You can use both, transparent and coloured wires. With this hanging method, you do not need a hammer and drilling machine to hang  your wall paintings. 
Picture rail systems consist of picture rails, picture hooks, rope or wire and the appropriate accessories for attachment. Once the picture rail is hanging on your wall, you can mount your wall pictures to the rail with wire and hooks.
You can mount picture rails on the wall, as well as on the ceiling. They are suitable for light, medium and heavy pictures. The pictures can be hung up easily and quickly, also they can be exchanged as required. Thus, you stay flexible and do not have to hammer nails into the wall over and over again.
Advantages:
Quickly exchanging your pictures is possible
No repeated drilling is necessary
Disadvantages:
Pictures can be moved back and forth on the wire
Expensive purchase
High installation effort
Visibile wire might be disturbing
Pictures are hanging loose in the air
Apart from mounting with double-sided adhesive tape and superglue, you can also stick photos, postcards, canvas pictures, or even picture frames to walls, slopes or similar surfaces, using sticky picture hangers.
Often, you can find the adhesive variants under names like "picture hanging strips" or "adhesive pads". Adhesive picture hangers are characterised by the fact that they can withstand a amount of stress, they are very robust and can also be sticked to stone, glass or concrete walls. Further advantages of sticky picture hangers are that they can be attached and removed just as quickly.
Finding the right alternative to screws or nails to hang your picture on surfaces like wallpaper or plaster is not easy. It requires much effort to fix a picture on a wall by drilling or nailing. Many manufacturers have recognized that removing adhesive tape leads to residues on the wall, especially on the wallpaper. Therefore, they have developed so-called adhesive nails. These are very good replacements for conventional nails, without drilling or hammering. The adhesive nails are ideal for sensitive and structured surfaces, such as wallpaper or plaster. Due to the adhesive force, the adhesive nail is hold reliably to the wall. However, the nails are not very large and, due to their small adhesive surface, can hold less than the specified maximum load-bearing capacity in the long run. For heavy pictures or pictures with frames, several adhesive nails should be used if possible.
Advantages:
No residue on the wall
No damage to the picture
Disadvantages:
Cannot hold heavy pictures
More expensive than the classic methods
Can only be used in combination with frames or existing hanging systems
Our conclusion on the subject of sticking pictures on the wall
In our guide, we have shown you various ways of attaching your pictures to the different types of wall. Of course, there are also alternative ways of hanging your pictures without them coming into contact with the wall. Thus, some artists do not present their art directly on a wall, but place them on a picture ledge. A picture ledge is a frame made of wood on which you can place your pictures or other objects. Like this, you do not need a drill and unsightly drill holes in your wall.
Considering the advantages and disadvantages mentioned above, you can decide for yourself which method suits you best. We at GAEKKO have developed innovative sticky picture hangers of all kinds! These can be quickly applied, changed and reused on all surfaces. No nailing or drilling is necessary. Place your photos and postcards wherever you want and design your individual photo wall. Compared to regular adhesive picture hooks Our adhesive picture hangers guarantee a secure hold of your pictures and can be easily hung on your wall without nails or drilling. With our sticky picture hangers for wall pictures of all kinds, you can stick pictures on walls without damage.
Our 3-in-1 picture hanging kit is a stylish and uncomplicated alternative to picture frames, photo rope, photo wire or photo curtain. Also suitable for collages, murals or picture galleries to mount your photos on the wall surface without picture frames or postcards. With the pre-mounted high quality adhesive tape, you can now stick your picture wherever you want, without any holes in the wall. A GAEKKO sticky picture hanger has a load capacity of max. two kilos. Especially for smooth and hard walls, like tiles or concrete, it is recommended to fix the wall hanger for picture on the wall with the integrated self-adhesive tape way more powerful than hanging strips. You can also avoid holes in walls with electric leads or water pipes, as no drilling is necessary. With wallpaper, on the other hand, you should fix the hanger to the wall by using a drill, dowels or screws, as the adhesive strips of the hanger could leave unsightly damage to the wallpaper when removed.
Before hanging a picture, do not forget to clean the wall with a damp cloth to remove dust and any remains. After the preparation has been made, the size and weight of the picture should be taken into account and, with a weight from 2 kilos upwards, the picture hanger should be fixed with the supplied nails or screws. This means that the picture not only hangs securely, but also straight on the wall.
Your advantages at a glace
Holds on almost all wall surfaces and is easy to remove
For different thickness of wooden and stretcher frames
EasyClick system: No more "looking for nails": Hang pictures on the wall with ease
Sticking pictures on walls: with a self-adhesive, high quality adhesive tape
Modular system: Change pictures at any time
Also suitable for walls with electric leads or water pipes
High resolution production with straight-lined filling for high stability
Can alternatively be nailed or screwed to the wall
Plastic is completely bio-degradable
Can be reused with new adhesive material
Drilling and nailing is out
The solution: With GAEKKO adhesive picture hangers, you can easily attach your pictures, photos and postcards in any room and on any surface. The module is simply stick to the back of your pictures. The hanger can be hung on the wall in 3 ways: sticking, nailing and screwing.
In case of smooth walls, we recommend to stick the wall hangers, the max. load capacity of the hangers is two kilos. The format is not important. If the wall is rough and uneven, it is recommended to fix the hangers with the supplied screws, plugs or nails. If screwed or nailed, the load capacity of the hangers is maximum 4 kilos per set. Our sticky picture hangers are a relief compared to regular hanging strips. Our innovative system is so simple that no complicated instructions are required. If you still have problems or questions regarding the installation, you can see exactly how to proceed by taking a look at our step by step instructions. Feel free to drop by our shop and discover more products to mount pictures, photos, canvases or picture frames on a wall.
If you want to do without drilling, screws or nails, you can use our self-adhesive picture hangers. You do not know which hook might be right for you? There is a lid for every pot! No matter whether you want to hang large wall pictures such as stretcher frames, canvas print, acrylic print, aluminium print, painting cardboard or photos – with GAEKKO`s adhesive picture hangers, you don`t need to drill holes in the wall or attach pictures to the wall with nails. In our shop you will find the right picture hanger that fits you, your wall and your picture.