How to hang canvas on a wall – Which possibilities of canvas hooks do exist?
The canvas print is very popular today and one can hang canvas almost everywhere. By the way, you can order canvas prints of good quality and at a reasonable price from "Photobox" or "Snapfish". And what could be easier to hang on the wall than a canvas print? It turned out that there exist many things that can prevent you from mounting canvas. What often starts with a nail, a hammer and a couple of precise blows, mostly ends with a perforated and cracked wall or a crooked canvas print. Hanging canvas paintings does not require much technical knowledge if you just use the right canvas hanging kit. Hanging a canvas without nails is really easy.
Even if you have got no craftmanship, you can settle this within a few minutes with our canvas mounting kit. Take care of your wall and your nerves and hang your pictures with our canvas hanger. Here, you will learn which hanging methods and hanging sets exist for your canvas and how you can hang your canvas print in no time.
You want to hang canvas prints on walls quick and easy? And you dont like holes in the wall when hanging pictures without nails? Then our canvas hanging kit suits perfect to you, because with it hanging canvas prints is easier then ever.
Discover our self-adhesive canvas hanging kits for your canvas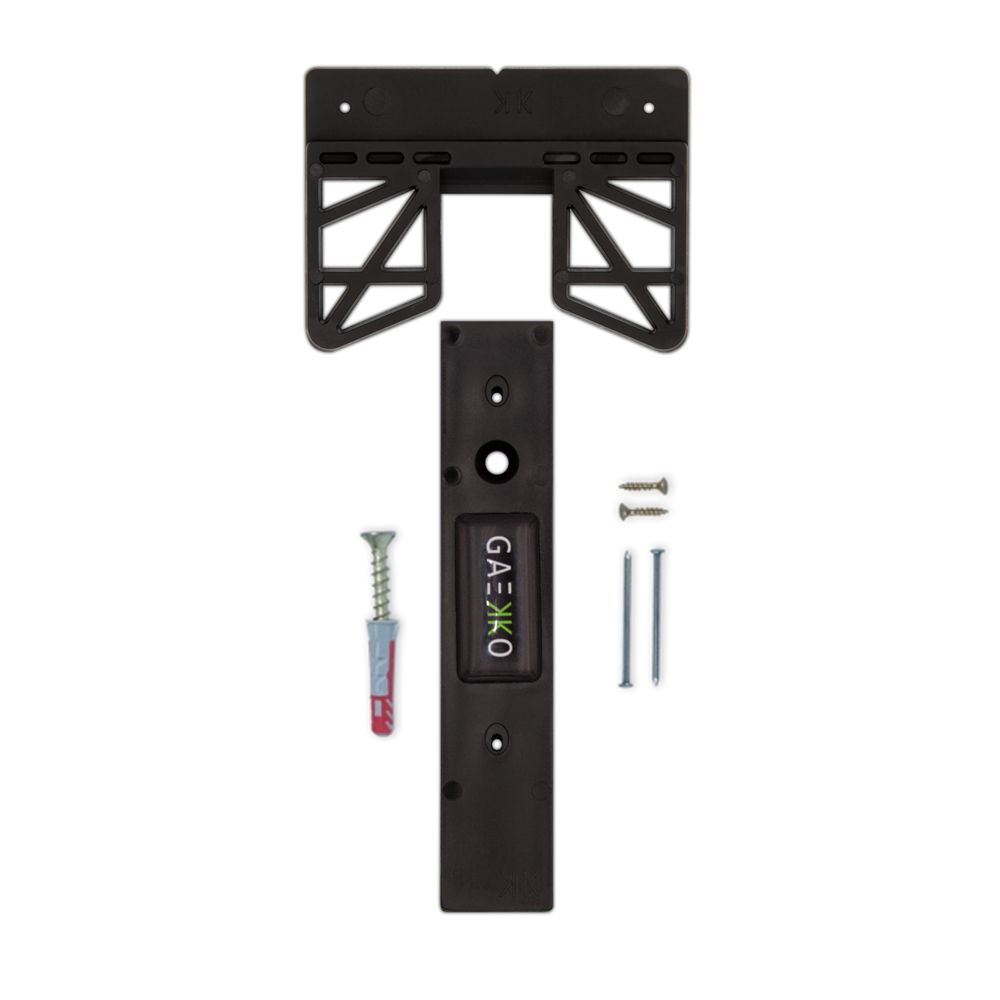 The picture hanger for canvas pictures & stretcher frames
With the innovative 3-in-1 hanging system by GAEKKO, you can hang up any kind of canvas picture on any wall as easy as winking. It is your choice: Sticking , knocking or screwing
Hanging your canvas print with a canvas sawtooth hanger on the wall
The canvas mounting kit with sawtooth picture hangers consists of two jagged eyelet sheets, which are screwed to the backside of the stretcher frame. The guide of the sawtooth picture hangers is pretty simple: The clemping jags can often be pushed on the frame. Finally, your canvas is ready to be mounted on the wall. Therefore, you can put the canvas with the help of the jags on nails, screws or canvas hooks. Moreover, the delivery includes fitting nails, screws, drawing pins and distance buffers. Often, the wall buffers are included in the delivery of the canvas hanging kit, so the combination of canvas and picture hooks can even out the distance of the lower side between picture and wall. 
With our canvas hanging kit you decide: Sticking, nailing or screwing
How to hang a canvas without nails - sticking canvas on the wall
The keyword here is sticking. It does not matter, if we are talking about self-adhesive hangers or adhesive hooks, because both do not damage your wall. Neither do you need a drilling machine nor a hammer and your walls stay save. With our GAEKKO canvas hanging kit and the mounting method "sticking", you can mount your picture on canvas without nails or screws. The adhesive canvas hooks or self-adhesive canvas hangers are suitable for walls that do not support drilling. This might be the case, for example, if wires run along the wall. Most self-adhesive canvas mounting kits are equipped with high quality adhesive tape, which you can remove from your wall without any residues or damage.
Our advantages at a glace
Without wholes in the wall
No frames or tools are necessary
Removable without residue
Our canvas hanging kit for your canvas: A guide
The canvas wall hanging kit by GAEKKO provides your canvas print with invisible stability. With this set, you can mount every canvas safely on the wall without any problems. The canvas hook of our canvas mounting kit is mounted to the back of the frame with a little screw. The canvas hook has a little groove with which you can mark the middle of the canvas, using a pencil. Before mounting the canvas hanger on the wall, you can adjust the hanger in a straight position using a pencil and a spirit level. Finally, you can mount the canvas hanger at the desired height on the wall. After screwing the canvas hook to the backside of the frame and adjusting the canvas wall mount with a spirit level and a pencil, you can hang your canvas print on the wall. You can find an exact guide here.
Our picture hanging kits for pictures of all kind