How to hang photos or postcarts on walls
Ways to hang photos on wall
Black-and-white or in color: By using photos & postcards, you can design unlimited wall decorations or individual picture walls. But how quickly do our photos fall into oblivion or end up in a dusty shoebox? We rarely browse through our old photo albums or look at past memories on postcards from the last vacation.
You want to know how to stick photos on wall without damaging? Here is the solution to holes in your wall: With our photo hangers for photos & postcards you can attach your photos to the wall without nails or screws.
Hanging Photos & Postcards with our self adhesive photo hanger
In doing so, you should not limit yourself to classic decoration with picture frames. From now on, you can hang photos and postcards you like and what makes you happy on the wall. These can be drawings of your children, photos of your friends or even torn out pieces of paper from a magazine. All these things deserve a spot on your wall and therefore, they should be hung up. Find out how to hang your graphics, photos and postcards on your wall quickly and easily in our guide.
Hanging photos on the wall without nails
If you want to arrange your photos and postcards in the room, you usually need a separate picture frame for each individual card. Oh, shit! Not only is the procurement of hanging items such as photo frames expensive, but often the frames are too bulky and your photos or cards look lost on the wall. Our photo hanging system is a good alternative here: Quickly put two photo corners in your hand, clamp the photo between them and attach it with the hanging strips in the desired place. Ready! With our photo hangers without nails it is really easy to hang photos without frames.
A mat is a simple cardboard frame for graphics and photos and can bring the focus back to the artwork and distract from the picture frame. Of course, the mat also allows you to fit a small photo or postcard into a larger picture frame. Unfortunately, when hanging up frames, you need not only creative ideas but also a little craftsmanship. When arranging the photo in the room, tools such as a spirit level, drill or hammer often have to be used in order to properly hang the photo and adjust the correct distance between them when several pictures are in the room. Don't make life so difficult for yourself! You can use our photo hangers without nails directly and attach your photo to the wall in any way you like.
In addition, for each frame, depending on size and length, at least one hole must be drilled or a long nail must be hammered into the wall. If the frame, mats and tools are after your fancy, we have the solution for you, with which you can stick the desired photo or even an entire photo wall on the wall: The PhotoGAEKKO.
Forget nails and picture frames
Without holes in the wall
No frames or tools are necessary
Removable without residue
The photo hanger from GAEKKO makes it possible!
Today, you can stick photos and postcards to the wall and hang photos without nails: With our self-adhesive FotoGAEKKOs. By using these instead of hanging strips, you can arrange beautiful memories on photos or postcards on your wall without holes and residues. Polaroid prints taken by instant cameras are also currently in vogue again. Of course, you can just as easily stick your retro photos on the wall with our photo hangers.
This means you can create a decorative photo wall and stick photos on walls without frames and without nails. Our photo hanging kit is equipped with high quality adhesive dots, which can be used several times and can be installed in just a few steps in any room.
For all wavers: Hanging photos on wall with magnetic ink
For those who don't like to commit themselves to a specific postcard, magnetic paint is a quick solution and clever decoration. Simply apply the paint to the desired area and then use small magnets (e. g. a magnet for your photos and postcards) to attach them to the wall. B. Neodymium magnets) on the wall.
The magnets allow you to arrange and rearrange your photos individually. By the way, you can also paint over the magnetic paint with another color. Thereby you give your photo wall that special kick. 
Due to the magnetic effect of the wall, you can easily and quickly create your own DIY photo wall. You can expand the wall any time with new postcards or retro photos or exchange old photos.
An Alternative to magnetic ink? Our tip: Hang photos with a steel rope!
By the way, the neodymium magnets are also perfect for hanging your photos and postcards on the wall using a steel cable or wire. What always works, of course, is to attach your postcards with small magnets to your fridge. 
How's that going to work? 
Stretch the wire rope or wire along your wall and attach the photos to the wire with the magnets. If you want to hang up pictures and use a wire or steel rope for this purpose, you should fix the rope accordingly. Otherwise your picture on the wall is not secured and can start to sway even with slight vibrations.
Hanging photos & postcards without frames
At GAEKKO you will find many different self-adhesive hangers for pictures of all kinds, which all have one thing in common: They can be removed without leaving any residue, offer a secure hold for the respective purpose and can be easily hung on your wall without nails or drilling.
Our photo & postcard hangers give you the opportunity to attach and remove them without nails whenever you want. All our hangers can be removed without leaving a trace, so you can hang up photos without damaging the wall. They are designed to hold your photos and postcards securely and reliably. You can easily change your pictures or cards at any time. With our hangers, bulky picture frames and expensive hanging are a thing of the past. From now on, you can hang up your photos and cards wherever you like. No matter where you want to hang up a picture in your apartment – there is a GAEKKO hanger with which you can do this permanently and without drilling or nailing holes into the wall.
Postcard hanging ideas - hang photos and cards on a branch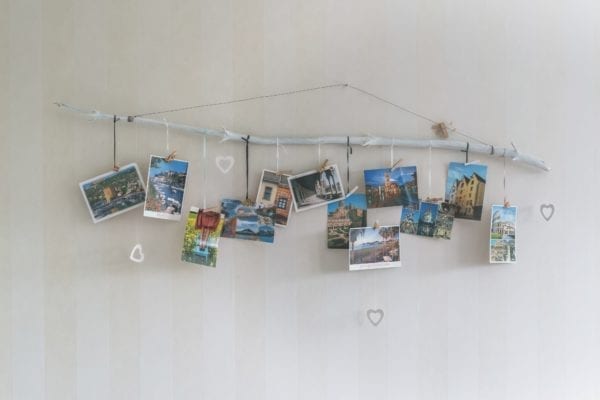 There are many different ideas on how to hang photos and postcards on the wall. The creative option for every room: A slightly different way to hang your favorite photo without a frame is by using a branch.
What do you need? 
In addition to a branch you need a simple string or cord and of course your photos and maps. You can buy the right branch in any decoration center or simply take it with you on your next walk in the forest.
Then, the branch can simply be attached to the wall with nails. Our tip: A vase can also be arranged with the branches and placed anywhere in the apartment. This has an even more harmonious effect in the room and is the perfect decoration to present captured memories in a beautiful way.
You tie the threads to the branch and then, you can stick your photo to the threads by using the adhesive tape. Self-made and equipped with beautiful photos and arranged lengthwise. Done. It also looks very nice in any room and gives the room a decorative touch.
Creative ideas: Photos hanging wire
An easy way to hang photos and postcards on the wall without frames is by using photo hanging wire or photo rope.
What do you need? 
A wire, cord, wool, string, line or string thread can be used for hanging photos without frame. To do this, fix the ends of the photo rope to your wall and arrange the string as you wish. You can easily attach your photos and postcards with small clothes pegs to the string, thread or cord. No matter whether you choose small wooden pegs or large plastic clothespins: The wall design is unlimited by the individual arrangement on the string.
Our tips: 
In no time at all you can also light up your photos. For this purpose, a simple chain of lights serves as a photo rope. As mentioned above, you can easily attach the photos to the light chain with small wooden clips. Your pictures will become real Spotlight photos.
What else is up? 
If you want more color in the room, you can also cover the clothespins with colored adhesive tape. The latest trend from Japan is the so-called Washi tape, which is available in many bright colors and designs. You can also stick your card directly to the wall with Washi tape without nailing holes in your wall. Then your DIY idea becomes an unmistakable eye-catcher.
Remember, however, that this tape cannot always be removed from your wall without leaving a residue. Often, unsightly glue residues will remain which ruin your wall. Minimize effort! Often it is not easy to hang a rope on the wall. In addition, the cord or thread has to be attached in an unsightly way! Avoid unnecessary holes or unsightly adhesive tape in the room! With the FotoGAEKKO, you can easily fix your photos to your wall with the transparent adhesive dots. You don't see any tape, nor do you need to nail or drill holes in the wall!
Hanging photos with art rails or picture rail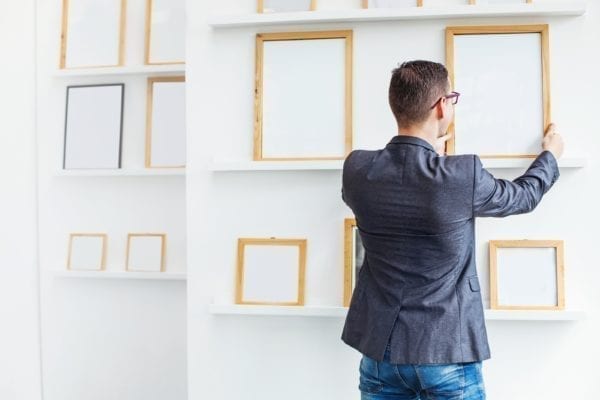 How's that going to work? 
Apart from using a photo rope, a string or a wire, you can also present your picture or photo on art rails or picture rails in the room. The picture rail is mounted on the wall once to attach pictures to the hanging threads by using hooks. You can then rearrange the pictures and photos on the hanging again and again.
The picture rail allows you to hang pictures, photos, bills, posters and other works of art of any shape easily and quickly – simply hook the photo with a clip on the string, select the desired position and your picture is hanging. Our tip: Hang postcards with a special effect.
Hanging photos on metal grid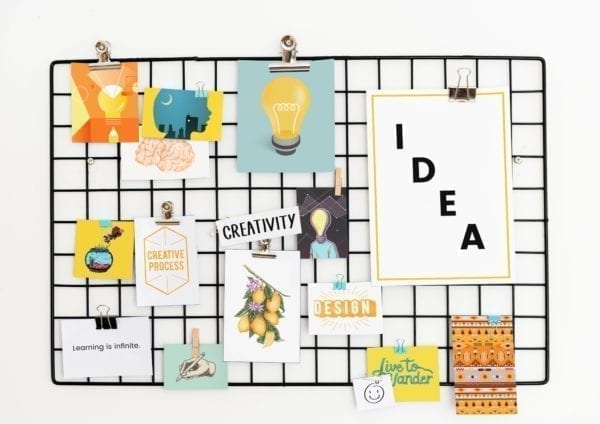 How does it work?
If you are looking for a new decoration for your photos and postcards, using this method you can also simply create your own individual photo wall. Try a symmetrical metal grid. You can simply hang this on your wall with two nails. You can easily attach your photos and postcards to the grid with small clips (so-called foldback clips) or magnets. The tiles create a certain order despite many different contrasts.
GAEKKO has the right photo hanger for you!
Our tip: With GAEKKO's self-adhesive photo hangers you can easily hang your photos and postcards in any room and on any surface. For example, on tiles, wallpaper, plaster or bricks – GAEKKO's photo hanging kit is an uncomplicated alternative to hanging strips, picture frames, photo ropes, photo wire or photo curtains.
Also suitable for collages, murals and photo galleries to hold your photos and postcards on the wall without a picture frame or mount. The solution to holes in the wall is the following method: Sticking pictures on the wall! Our FotoGAEKKOs are the easiest way to hang photos on walls without nails and a cheap alternative to conventional picture frames. And you can stick photos on walls without damaging like hanging strips. In our shop you can find the right pciture hanger that fits you and your picture.
Discover our self-adhesive picture hangers for art of all kinds