Hanging pictures
on stairs
Ideas how to hang pictures on stair wall
You want to hang many pictures and photos in different sizes, either framed or completely loose, on your stair wall. No matter if different frames and picture sizes, black, white or in colour, we show you how to cleverly combine pictures of all shapes and colours to create a harmonious row of pictures on your stair wall.
A staircase or stairs are particularly suitable for perfectly staging your pictures or photos on the wall. The even gradient of the stairway steps creates a pleasant, harmonious distance between your pictures and thus allows the use of numerous hanging options. No matter whether at the same distance and height, in a row, as a grid, along an edge or Line or as ordered chaos – the combination possibilities on the wall are unlimited.
With our hanging system you can easily hang your pictures on the wall in your staircase. There are no limits to your creativity in staircase design.
Our picture hanger to hang pictures above stairs
We show you how to sort and arrange photos and pictures in completely different shapes and sizes in your staircase on the wall, and then hang them on the wall without much effort. When designing the staircase, you have the choice of numerous suspension options. With our tips and ideas you can hang your pictures exactly where you want them in your room in the future!
Hang up pictures on staircase walls with our self-adhesive picture hooks
How to hang pictures on staircase walls
There are many possibilities to decorate the wall of your staircase. More and more often there are apartments where the way to the next floor is part of the living space thanks to an open construction. However, if you want to decorate the staircase of your apartment in a tenement building, there are a few things you need to consider as a tenant Many things are not allowed as a tenant, even if it would visually enhance the barren staircase with pictures or picture frames on the stair wall. As a rule, your tenancy agreement or the house rules contain rules from the owner or Landlords recorded how their tenants should behave in the hallway. The quickest and easiest way to beautify your hallway in the stairwell is to design the stairwell with pictures on the wall. You can choose freely between the different types of pictures and picture frames, with or without mounts. Also with the choice of motives, whether photos, graphics, posters or even real oil paintings there are no limits. This creates an infinite number of possible combinations, each with its own dynamics. If you want to decorate your staircase with pictures, always make sure that they are safely and firmly attached to the wall. Due to a draft or the normal ascent and descent, your pictures and frames can fall off the wall and in addition to broken frames, your stairs can also be permanently damaged.
Hanging pictures in a hallway
The corridor is mostly used as entrance area and transit station. Usually the hallway is a rather narrow passageway which limits the arrangement of your pictures. The small space available is therefore decisive for the ideal place and optimal hanging of your pictures.
In order to avoid being overwhelmed by the room, you should hang up your pictures in a row in the hallway. In the hallway, where you usually stand, you should hang your pictures at standing height as a little higher than in the living or dining room. It is best not to use too powerful picture frames but rather to use pictures without frames. This also means that your hallway does not seem too oppressive and you do not feel so constricted.
Tips for hanging pictures on stairway wall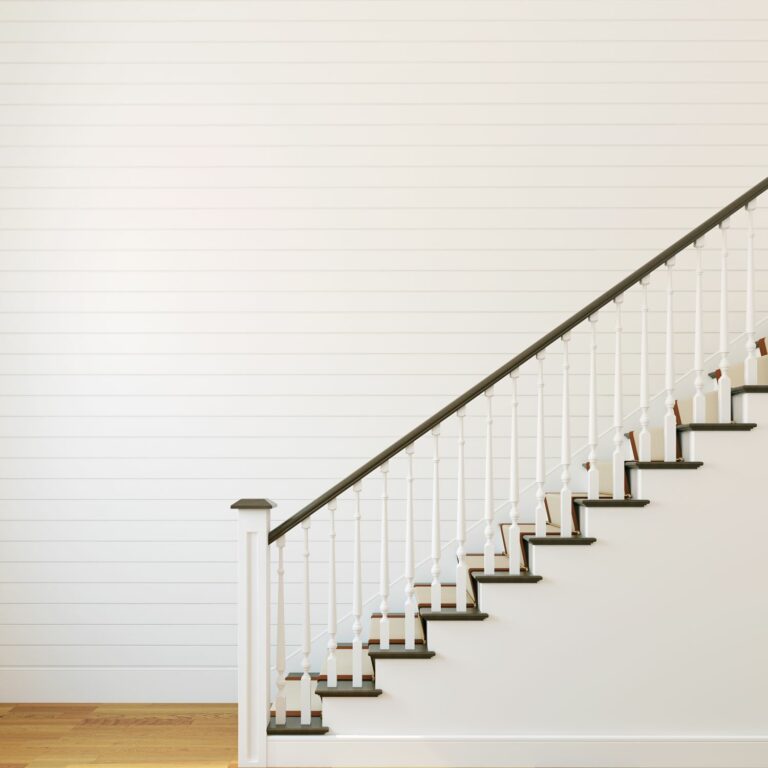 A new and creative idea of arrangement is the planned chaos. At first glance, this means a disordered arrangement of numerous pictures of different designs, sizes and motifs. With a wild and disordered picture collage it doesn't matter if you combine photos with or without frames as well as picture frames with different aspect ratio and distance.
But before you hang your picture collection wildly in the stairwell, you should think about the positioning of your pictures. Oftentimes it is not easy to hang a collage of pictures on the wall at eye level in such a way that it looks unwanted and yet structured at the same time.
Our tip for the optimal unordered wall collage is quite simple: arrange your pictures along a clear axis or edge on the wall. The easiest way is to arrange your pictures along a simple horizontal edge in the room at eye level. This axis or edge serves as a point of orientation, with the picture frames being arranged along this line. You should also make sure that the distances and height of your pictures are almost identical, so that you get a coordinated overall picture.
Hanging pictures on stairs – the classic hanging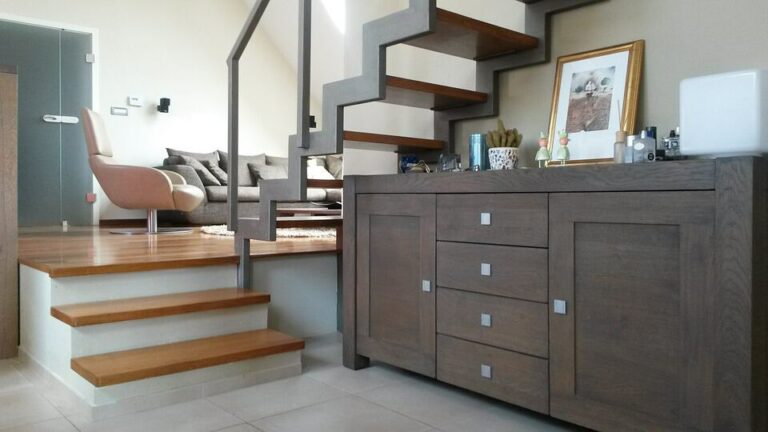 If you like it tidy and structured and also have pictures of the same size and characteristics, you can simply hang up your pictures in a row. In an exhibition or in museums, series of pictures and motifs that often belong together are presented on the stair wall in a row at exactly the same distances and height. For many people, the perfect place for a photo wall or picture frame row is in the stairwell or Staircase. This suspension variant is also suitable for the staircase, if your pictures follow the path of the staircase in terms of hangings.
Instead of a horizontal line on the stair wall, your pictures and frames now follow a line that runs parallel to the slope of the stairs, i. e. the steps. To arrange your pictures in a structured and even way, it is recommended to keep the upper and lower edges at an even distance to the steps. This method is also called edge suspension. A spirit level and template will help you to arrange your pictures perfectly in the staircase or stairway.
Without wholes in the wall
No frames or tools are necessary
Removable without residue
Start with the bottom picture, with the other photos running along the line parallel to your staircase. To make the arrangement of your pictures on the wall uniform, you should keep the upper and lower edges at an even distance from the steps. We also recommend that you use a spirit level when aligning your pictures. In order to get a better idea of the effect of your entire picture wall, it is best to place it again on the floor.
Our tip for gallery wall ideas on stairs: the right picture hanger
Basically you can hang your pictures with any wall mount. If you want to hang several different pictures together on your stair wall, we recommend a hanging that is not visible from the front. Otherwise your overall work might look unsteady and the overall picture might lose its dynamics. Some people prefer the traditional way: using nails or drilling holes in your wall and using plugs and screws.
But there are other options that will save your stair wall. With a gallery rail or Picture rail you can hang up your pictures diagonally along the stairs, for example. For this purpose, there are special stops which prevent the sliding hooks or the nylon rope in the running channel of the picture rail from sliding down the slope.
Hanging pictures on stairs with GAEKKO picture hangers
Our picture hangers from GAEKKO are particularly easy to attach and suitable for all mural formats. With our hanging system you can hang up pictures, whether in a row or as steps. No more complicated adhesive or mirror sheets that have to be aligned horizontally in a time-consuming way.
You don't need nails or screws: our hangers protect your staircase and can be glued to the wall very quickly. There are no limits to your creativity. And the best thing is: With our hangers you can quickly and easily exchange your pictures again and thus completely redesign your picture wall in a few minutes. Our picture hanging kit offers you the possibility to arrange your pictures in every imaginable way in your staircase and to realign them in seconds.
Our hangers offer you the possibility of an optimal staircase design with your wall paintings. Whether creative photo walls or the hanging as a checkerboard pattern. Our hangers make hanging pictures in the staircase easier than ever before and help you with the optimal stair wall design.
Discover our self-adhesive picture hangers