Hanging a picture frame
- Tips and Tricks
What do you have to consider when hanging a picture frame?
Picture frames embellish every wall and let pictures, photos or postcards come into focus. However, a picture frame not only lets an artwork come into focus but also protects the picture from dust and humidity. Furthermore, the frame makes hanging pictures and the transport of the pictures more easy.
But what is the right method to hang a picture frame? Probably everyone is going to face this problem and therefore they know that a few things have to be considered. To hang a picture frame straight is not an easy task. Many people first drill a hole, then measure and conclude that it is either too high, too low, too close or too far away. And yet you do not have to drill holes into the wall to securely hang a picture frame on the wall for a long time. 
The adjustable picture hook for all mounted pictures
With the innovative hanging system by GAEKKO, you can attach every mounted picture with a pre-assembled hanging system (for example: picture loops, sticky plates, picture wire, barbed hooks) to a wall.
The hook can be shifted flexibly in a horizontal, vertical or even diagonal without having to knock holes into your wall.
Leave the driller inside the drawer because it is time for something new: With the self-adhesive hangers by GAEKKO you can hang your framed pictures without hammering and without drilling, and therefore without boreholes, on the wall. No screws, no stress. In our guide we are going to show you which possibilities exist, apart from gluing, to hang your photo frame securely and straight on the wall.
Picture frame hanging systems – Which options do exist?
Usually, you can hang small and light picture frames onto one fixing point. However, usually you have to hang frames to two fixing points. Depending on whether you hang your frame on one or two fixing points, there are things to be considered. For example, with a two-point mounting, your pictures have to hang at the same height. If not, your artwork will hang crooked. You can find a step-by-step guide on how to hang up your picture frames straight further below.
Perfect overall conditions: You can hang your picture frames without screws and nails and therefore without drill holes. The self-adhesive variation always depends on the size and the weight of your picture. In addition, the texture of the wall surface plays an important role. Furthermore, when hanging the picture frame you should be careful that the middle of the picture is put on eye level. This corresponds with a height of 160 centimetres whereas it is ideal if one third of the frame is above eyelevel and two thirds are below eyelevel. You can find the different frame hanging hooks  here:
Aligning pictures individually
All kinds of wall surfaces
Exchanging pictures whenever you want
1. Hanging picture frames with nails and screws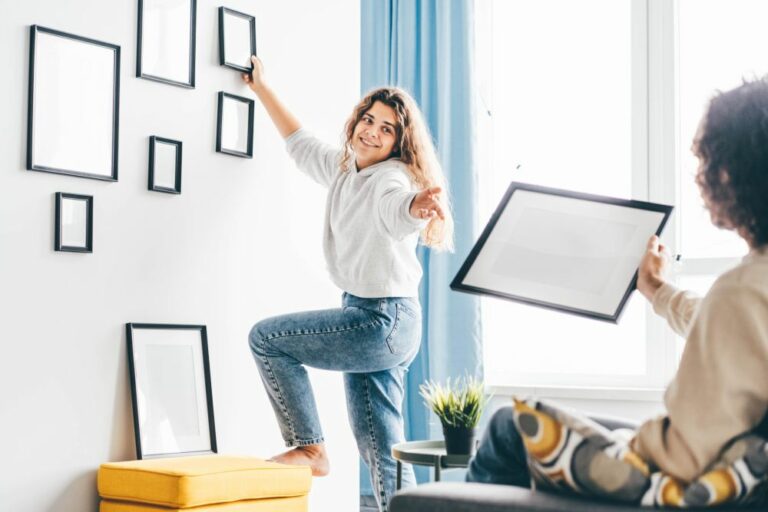 To hang your picture frame correctly on the wall you need the right tools. Therefore, nails, dowels, screws, a driller or a hammer and a spirit level should always be included if you want to hang your framed picture on the wall. If the suspension of your frame needs to be hung on a nail, the nail should have a length of four to five centimetres and it should be hammered down in a 45 degree angle into your wall. How to hang pictures on difficult surfaces like for example on a concrete wall, you can find out here. This form of mounting is certainly the cheapest and fastest. But remember that the nail always leaves unsightly holes in your wall. Therefore, this suspension is especially suitable if you rarely change your works. The picture can also be hung on the wall by using dowels and screws. The choice of the right drill depends on the condition of your wall. You can even hang pictures on tiles in your bathroom or kitchen using a few tricks.
If your picture is hanging in the room, the spirit level makes it easier for you to align your picture straight. The suspension with plugs and screws or nails is possible either at one point or at two points. You can find tips for perfectly attaching pictures to tiles here. Once the hole has been drilled into the wall, you can screw the screw into the hole with the cordless screwdriver.
2. Hanging picture frames using a hook
If you use picture frame hooks, you have to put the nail into the cover of the hook. You can press the nail with the picture frame wall hook into the wall with sufficient force or hammer it in carefully with a hammer. The automatic bracket allows the nail to be hammered in at an optimal 45 degree angle. There are countless picture frame hooks for the most diverse picture hanging requirements: picture frame hooks in various colours and shapes, for light and heavy pictures, for different types of rope, with or without anti-theft protection.
Nails or screws are certainly the safest way to hang pictures – especially when it comes to large and heavy frames. At GAEKKO there are numerous innovative solutions that make it easier for you to hang your picture frames. In contrast to nails or classic picture hooks, with our hanging system you do without unsightly holes in the wall! No drill & drill holes, no dirt, no hole, no stress! Within a few seconds you can now stick your picture frames to the wall. And if you do not like it, you can remove our hangers again. You can find out how to stick poctures to your wall quickly and easily in our guide: "How to stick pictures, photos or posters to any wall!"
3. Hang picture frames using string, rope or wire
In the past, framed paintings were usually hung on hooks with a picture string or picture wire. The picture wire is attached to two hangers or metallic eyelets in the sides of the frame. By distributing the load equally on both sides of the frame, you can quickly and easily align the picture horizontally. However, mounting with a picture rope always leads to a slight forward inclination of the picture surface. Nevertheless, even with this method of attachment you must remember that a central hole in your wall is required to hang your picture securely.
4. Hang picture frames with art hanging rails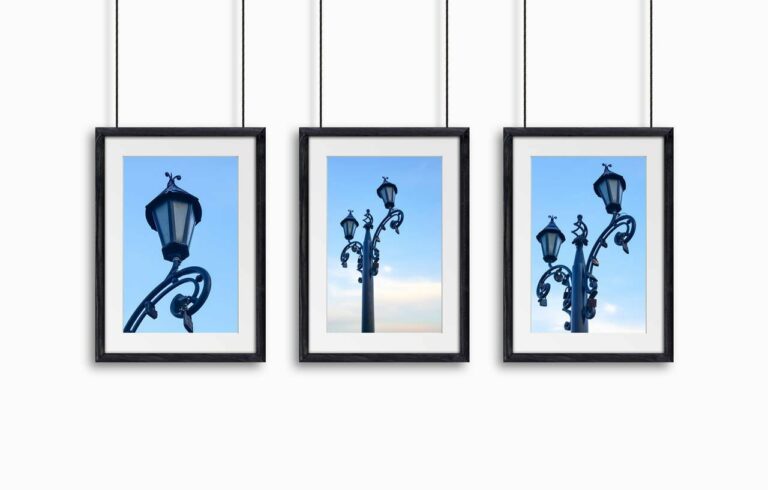 As the name suggest, art hanging rails are mainly used in galleries and also in museums. This is because this hanging is very flexible and is particularly suitable for professional use. But art hanging rails are also often used in apartments with high walls and stucco, because after attaching the rails once, you no longer have to drill annoying holes into the wall when hanging picture frames. Picture rail systems consist of picture rails, picture hooks, rope or rod hangings with hooks on the back of the picture frames. What is often forgotten: You also have to drill holes into your wall to fix the picture rails!
5. Sticking picture frames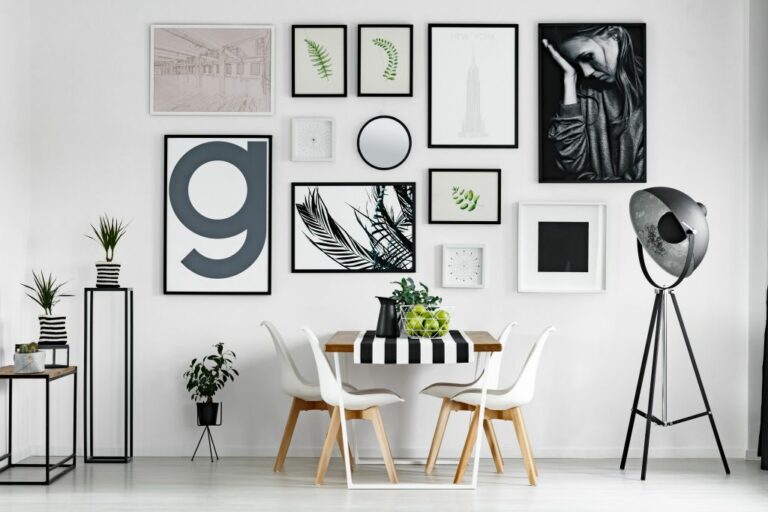 You can even stick light pictures to the wall with the help of new sticky picture hangers. In particular, the substrate plays a decisive role here: there are products for fixing on wallpaper and plaster, adjustable and removable products. The simplest and fastest method of application is double-sided adhesive tape. Cut the mounting tape into several short pieces so that they fit exactly on the back of your picture frame. The more pieces of tape you spread evenly over the entire back, the better the adhesive effect. Depending on the size of your frame, one or two adhesive strips on the long side and one or two strips on the top are sufficient. After you have removed the protective foil of the adhesive tape, you only have to place the picture in the desired place and press it firmly against the wall for at least 30 seconds.
But the fixation with adhesive strips or adhesive tape has several disadvantages: on the one hand, the adhesive tape is really only suitable for very light pictures without frames and on the other hand, the adhesive strips do not stick equally well to each wall surface. Therefore it is quite possible that the adhesive strength of the adhesive strips or tape may decrease over time and the pictures may fall off the wall.
An alternative to the assembly line are adhesive nails and screws. The function of the adhesive variety is similar to that of an ordinary nail or screw, except that they are simply glued to the wall. Some versions also have a nail head that can be moved and fixed with a regulator. This also allows the height of the nail to be adjusted. Unfortunately, the adhesive nails are only designed for a weight of up to 2 kg. Many people are therefore unsure whether the adhesive nail will support the weight of the picture frame at all. In some reviews you can therefore read that the adhesive nail fell off the wall again and not only the picture frame but also the floor or skirting board were destroyed.
Tips and ideas on how to hang picture frames on the wall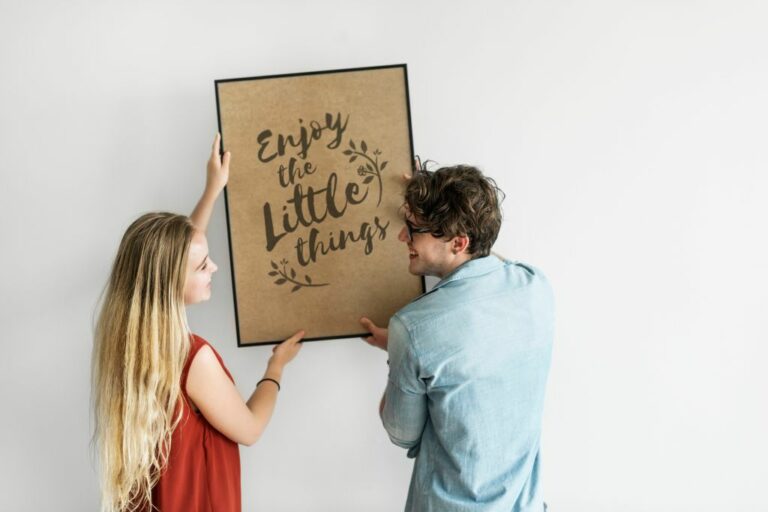 Pictures on the wall are indispensable for a cozy apartment! Not only the kind of your picture, but also the position and decoration of the different pictures in the room play anequally important role. Because it is precisely the combination of photos, posters and postcards to form a harmonious group of pictures that is decisive. In our tip you will learn how to best proceed if you want to create some single pictures to a picture wall.
Preparation for arranging picture frames
Many people try to find a context or a colorful motto in the different motifs of their pictures. We say: It does not have to be! Rather, you can also combine many different pictures of all shapes and colors to a colorful picture wall. It is precisely this intended chaos that makes a picture wall really beautiful and individual. For all those who love order, we will of course also show you how to hang picture frames uniformly and neatly in a row. How exactly you arrange pictures ultimately depends on the size and shape of the different works of art. Before you start with the actual hanging of pictures, you should ask yourself four crucial questions:
Arranging picture frames – tips and tricks
We have already described in detail how to hang a picture frame on the wall in our guidebook. However, if you want to put more than three frames or even several types of pictures on the wall, this is called a collage. Depending on the angle of view and positioning of the frames, a collage can achieve very different effects. This makes arranging picture frames on wall a real challenge. Here, we show you the different ways of hanging and how you can hang your frames on the wall in a perfect arrangement:
Like a chessboard, the images are positioned strictly geometrically in a rectangle. The grid suspension is particularly suitable for picture frames of the same format and size. The strict geometric scheme and the exact same distances as well as the hanging of the pictures to each other along a straight line provide a coherent overall picture and emphasize the desired strictness of this hanging variant.
In this hanging method, you do not decorate the frames in strict rows but hang them criss-cross on the wall. In order not to make the pictures look too chaotic, you should hang your pictures either in the same format or at the same distance to each other. You can also bring a bit of calm into the mess with some imaginary lines to which the pictures and frames of similar colors and styles are aligned.
In Petersburg hanging, which is also known as salon hanging, it is not so much individual paintings or works of art that matter. Rather, what counts is the coherent and overwhelming overall picture of all picture frames. By the way, the only rule with this method is: There are no rules! Basically, you can use frames of all shapes and colors, photos and postcards, covered canvas or framed pictures in frames made of wood, aluminum, plastic or in frameless picture holders with or without passepartouts. With the Petersburg hanging, everthing is permitted.
Our conclusion about hanging picture frames
No matter which picture you want to hang on which wall: GAEKKO has the right picture hanger for you! Our picture hanging kit can be mounted on any wall in no time at all!
Discover our self-adhesive picture hangers for all kind of pictures!